Kumon – Alden Bridge

Why Kumon?
Practice makes perfect! Well, nothing is ever perfect, but practice brings us closer to perfection in skills whether they are in basketball, math, or reading. During a busy school day, it is impossible to offer students the amount of individual practice they need to master new skills. School teachers are on a schedule and must move the classroom ahead whether or not every student is ready. Just hearing a new concept (when the teacher explains it to a classroom), or seeing it performed (as on a whiteboard) is not the same as practicing the skill to perfection in a safe place (as in a Kumon classroom). A Kumon instructor has the luxury to individualize each lesson plan to fit each student. While Kumon does not teach to any school district or any standardized test, it does provide the foundation needed to master math from pre-school to calculus and reading from letter recognition to Shakespeare. Students at the Kumon Alden Bridge location have enjoyed 100% scores on the STAAR test, placing in the top 2% nationally on the SAT, and full scholarships at university level. All of this, without teaching to a particular test!
Why NOT Kumon?
Kumon is affordable! Monthly tuition per subject per month is $130.00. Kumon is not burdensome! Completing daily worksheets takes about 15 minutes. Kumon is proven! We have been in business since 1958. Kumon teaches habits necessary for a successful life: daily discipline, self-learning, and remaining diligent when bumps in learning occur.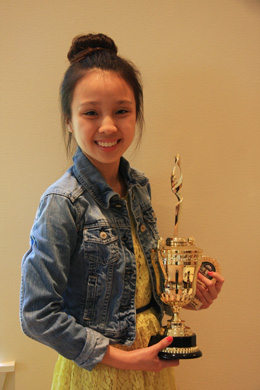 A Strong Foundation Leads to Success
Bridget is a great example of the importance of laying a strong foundation for success. When she came to Kumon the summer before she was scheduled to study Algebra, she was not happy with her pre-algebra grade. Her Kumon diagnostic test showed that she needed to be stronger in mental addition. Both Bridget and her mother were not sure how studying addition would help her, but agreed to try it. By her own choice, Bridget worked an hour daily on Kumon worksheets and mentally mastered addition, subtraction, multiplication, division, fractions, and decimals in one summer. The next school year, Bridget scored 98% in Algebra and was accepted into the Academy of Science and Technology.
Kumon is the Tortoise, not the Hare
…but we win the race! If a student is struggling in division, we must be sure that multiplication has been mastered! It all comes down to practice. Practice leads to competence. Competence leads to confidence. There are no shortcuts.
An afternoon in a Kumon Classroom
A student arrives at her appointed time and picks up her file. There is a section for classwork and homework. She takes her homework out and puts it in her Kumon bag to complete the next day at home. Then she takes out her classwork. She writes her name, the date, and her starting time at the top. She completes the assignment which should take her about 10 – 15 minutes, and writes her ending time. Should she have questions, she will get one-on-one instruction. If not, she completes her work and turns it in to be graded. In three to five minutes, her graded work is returned to her to be corrected. She corrects her work right away, thus learning from her mistakes, and turns her paper in to be re-graded. If she is a reading student, she will read aloud to an assistant. She looks over her homework, making sure she can complete it without problems, and is dismissed until the following class.
About the Alden Bridge Instructor
Vickie Huckabay began her career as a Kumon instructor 17 years ago to help her son, Heath, who was a very strong math student. She knew that he would likely choose a career in math or science, and she wanted him to be able to compete on a global level. Heath learned the value of repetition and as a chemistry student, set up a chemistry study group to "overlearn" the subject matter. He graduated with honors at Sam Houston State University and was accepted into a fully-paid five-year doctoral program at the University of Kansas. Heath is a now a chemist at Oakridge National Lab in Tennessee. Mrs. Huckabay wishes the same level of success for all of her Kumon students, wanting every career door to remain open for them.
Our Staff is Here to Serve You! We only want the best for our Kumon students. If you are reading this, and are inspired to help others by joining our staff, please contact Vickie Huckabay for an interview.
Contact Us

8021 Research Forest, Suite C, The Woodlands, Texas, 77382.
Phone us at (281) 353-6925 or email thewoodlands_tx@ikumon.com. If we cannot answer right away, your call will be returned within 24 hours.